Neighbor Dinner 11

Hosts:

Steve and Gina

Date:

June 9, 2002

Cruisine:

Chinese, more or less
Scott, an old friend from college who I have not seen in years is visiting. I want him to see some of how I live here in Seattle so I ask the neighbors if we can do this dinner sooner and include Scott. So we schedule the dinner for 3 weeks after the last one.
After 10 dinners we have come full circle with the cuisine: we are cooking chinese food for a second time. Except I remember that Scott is a particular fan of blueberry cobbler and that a recent Cooks magazine had an article about blueberry cobbler so we plan cobbler for dinner. Here's the many as Mike wrote it out. Click on items to see their recipe: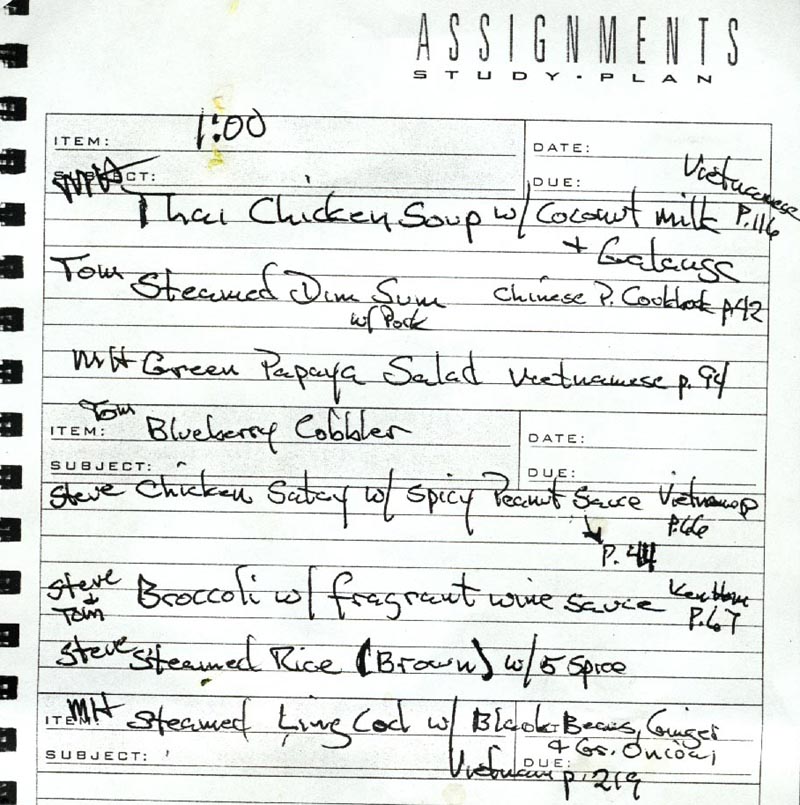 I go over to Steve's at 2pm. Mike shows up soon after that and asks were we were at 1pm. I forgot that our original plan was to meet at 1. We are getting a late start. No worries, we'll be done when we are done.
Mike started working on the green papaya salad, Steve on the peanut sauce, and I on the dim sum. We don't get too far before the guests start arriving. Marie's the first and I give her the task of making some whiskey sours.
Scott shows up latter and I give him the camera. He proceeds to take a series of pictures of the floor:
But he also takes some nice pictures of us cooking
Meanwhile, the guests have arrived and are getting restless. I think that we may have told them we'll serve at 4 or 5. When we finally do it is well after 6.
This meal didn't come together as smoothly as some. But when we finally do serve all the food is excellent.
---
[Back] [Home] [Trip Journals] [Climbing] [Kayaking] [Flight] [Photos] [Food][Feedback]
Page last modified: Jul 09 08:48 2010 by Tom Unger