[Previous] [Hakai Index] [How To]
Mostly Sunny
Day Paddle
Breakfast on biscuits and oatmeal. Not loosing any weight on this trip.
We take some Patagonia product shots of Marie carrying a kayak up the beach. Latter we inventory food. Unlike the Noatak trip, we are not worried about running out of food. But we always like to know what is there. Unfortunately, whiskey supply is very low.
Given how much beach we had last night Paul and Wendy move their tent to spread out a little.
At noon we leave for a paddle around the southern group of Simonds Islands. The SW sides of these islands are exposed to the pacific and present a barren rock face toped by wind blown vegetation. At tide line are giant barnacles and muscles. A low swell washes in and out of the crevasses I paddle near the rocks and feel the power of these small waves.
On the trip we have come across several colonies of seals hauled out on rocks. Invariably we scare them away. At first I wanted to get a closer look at them. Eventually I realized that they are never going to let me get close and I began to feel bad about disturbing their rest. I keep giving them more distance, but it seems that one must stay exceptionally far away.
Back in the cove I practice some rolls in the bay, with a little less success. I never have to swim, but do resort to pushing off the bottom several times. But I am successful with a sweep roll or two.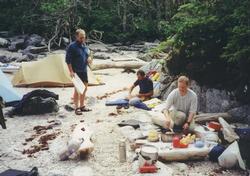 Back on shore I feel a little weak. Too much exertion at the wrong time.

Paul and Wendy discover that the afternoon tide was higher than the night tide and have to move their tent back up the beach.

I hike up into the forest. There's a flat section which could hold several forest tent sites. Above that is a small knoll with a game trail running up it. All along the game trail I find abalone shells. What's eating these? Otter?

Overcast - Partly cloudy - Thunder and rain showers - Clearing

Up early to catch the ebb tide. Paddle south through Granville islands then over to south McNaughton. Take a short break in a lagoon. The entrance is a narrow pass, perhaps 20 ft wide, with a moderate current flowing through it. Inside, it feels like a lake. I don't know if it would be an interesting place to camp or not, and I don't see any obvious tent sites. Away from the wash of the open ocean the vegetation is thick right down to the high tide line.

We paddle on, crossing Curtis Sound with it's confused waters, then round Superstition Pt., which is very calm.

Here we meet a solo paddler in a open, two seater folding kayak. He paddles from the rear position, wearing a cotton tee shirt and shorts. He has no spray skirt. If he was to capsize he would have a hard time righting his boat and emptying it before becoming hypothermic. But while paddling he is quite comfortable. I see that he has a book propped on the gear in front of him and is reading as he paddles.

By contrast, we are all dressed for immersion. We wear wet suits, spray skirts, and life jackets. Well prepared, but hot on sunny days and always clammy. The whole getup is cumbersome and restrictive. After a 6 hour day it is a welcome relief to peal off the suit and wear breathable clothing again.

We lunch and fill water at a stream on the E side of Spider island. Here there are ruins of an old wood building. Further south we explore camp sites on Edna islands and on Triquet island. The west Triquet camp is taken so we settle into the camp on the east end of the north shore. Another sandy beach in a bay. Here there are two forest tent sites, a box toilet, a rope swing, a net hammock, and a big fire ring..

Paul and I dismantle the fire ring. The stones go back into the ocean to be washed. Unburned wood in to the forest to decay. We find a lot of aluminum foil, which goes into our trash bags. The ashy sand gets transported low on the beach were it will be dispersed by the next tide. In the rings place I build a plywood table where we set up our stove based kitchen.

[Latter we meet a kayak party who camped here after us and they comment on the nice table they found.]

People have different wilderness esthetics. I prefer the sense of it being untouched and try to leave as little trace as possible. Fire rings offend me. But, for some reason, driftwood kitchens don't. Nor does the rope swing. They are not quite as dirty as the fire ring. Any site that is used frequently will show signs of that use. If it's used enough it is worth developing (hardening) it a little so that it takes the impact better. Perhaps because of the fire ring or because the sky is overcast I find this camp site does not feel as pure as our earlier sites

Overcast - Some fog
Day paddles

My lower back has begun to hurt most nights at 3 a.m. Laying on my back makes it worse. On my side with my knees up is OK. Best is on my stomach. During the day it feels fine, though a little painful after a long time in the boat. My guess is that weeks of sitting in the kayak has stretched my hamstrings enough that the balance has shifted and my pelvis is being pulled more forward by my quads.

Marie and Wendy go to look at an Archeological site and fill fresh water. Paul and I paddle around Triquet island. A marked ruin on the west side of the island turns out to be a wrecked fishing boat, no more than 5 years old I'd guess. This bay also has a small fresh water creek and could be camped on in smaller tides.

Further on we paddle through kelp beds where I see a shield crab clinging to one of the bull kelp heads. Now that I've read about the different species of crab I see many more of them.

Next, we hear the barks and growls of a very large seal colony on a small rocky island perhaps ¼ mile to the south. We paddle toward it a ways. Eventually I can see some seals through the binoculars, but no where near as many as I expected. [A couple days latter I paddle past a rock which makes a similar barking sound as waves wash water into it, and I'm not so sure it was a large colony.]

Returning to camp I feel a little ill and read in hammock for a while.

Marie and Wendy return and tell us of their fresh water baths and inability to find the site.

Fog
Crossing to Stirline Island

Medium Early Departure from Triquet island. Moderately Overcast and limited visibility. We have an easy launch from beach, for once. We paddle east through Serpent islands. There is a camp marked on one of these islands so I look for it. I find a beach, but it will be submerged at the next high tide. I don't see any obvious camp sites above that. But Iroquoise was not obvious. In the process I cut through several narrow channels with some wave surge passing through them and notice that I'm much more comfortable in my boat handling.

From Serpent islands we cross over to the west coast of Stirling island. There is a camp marked on the west shore but we are unable to find it either. Having plenty of daylight and energy we paddle north through Nalau Passage. There we idle along the south shore and look at the sea life. Lots of star fish, including sun stars which have up to 20 legs. And a new, larger sort of barnacle.

On the east side of the Stirling we go up Lewal Inlet looking for another archeological site, some pictographs. We scan the rocks on both sides but see nothing, again!

Paddling south along the east shore we spy a beach near the marked camp site and land there. Some crude wood steps go up to forest sites. I guess this is it.

For Paul's birthday we cook a rice and chicken dinner, then chocolate cake for desert.

We are now in position for the last and largest crossing of the trip: Hakai passage. It's only a couple miles wide, but it carries currents up to 4 knots between Fitz Hugh sound and the ocean. So it has the potential to be rough. We plan to cross at the morning slack tide, which means a fairly early departure from here. If conditions aren't good we have time to wait another day.

Fog - Overcast - Clearing - Sunny afternoon.
Cross Hakai Passage
I wake up tired and unenthusiastic about packing and going. Paul and Wendy are up and report heavy fog, which is not good for the crossing. So we think that we won't go. But I'm tired and bed is comfortable so that affects my decision.
We discuss the decision on and off. Eventually I wake up a little more and get out of the tent to look at the fog myself. Conditions have improved to decent visibility. Just over an hour latter we are in the boats and paddling in time to catch the slack.
Beautiful, if you like gray on gray, which I do. We see large waves in the cannel, but once we are out out in them we find them to be broad and no trouble at all. The last half of the passage we idle along, taking pictures and enjoying being out there.
We find an OK camp site on Rattenbury island, then spend some time looking for better. By 12:30 nothing has been found so we settle on Rattenbury and cook our pancake breakfast for lunch. The sun comes out and becomes incredibly strong. I spread some things out to dry. Paul does laundry. Marie and I nap in the tent.
There are no tent sites here so we had to make them, leveling out spots high on the beach. Mine is about 6" higher than Paul and Wendy's. The evening tide is 15.1 at 10:30 p.m. Our tents should be safe, but we all stay up to watch.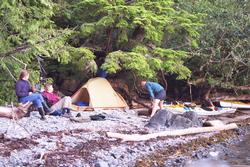 Waiting for high tide.

Clouds and Fog - Overcast
Day paddle

Overcast and foggy in the morning. I had talked about paddling down Choked Passage to some of the outer beaches, but the overcast sky dampens enthusiasm. We breakfast, read, and nap till mid afternoon. Then, Marie and Wendy get up some gumption. Enough to carry Paul and I into the boats and out onto the water.

All day we have been hearing small fishing boats zipping around. There are whole rafts of them on the edge of Hakai passage. In broken passage we find one floating fishing lodge (large boat) tied up in a cove. In the trees above a large beach is another. Customers fly in, then spend the week fishing out of small motor boats.

Paul and I stop at the land based lodge, are given a warm welcome, and offered fresh water. We're looking for water today so we say we'll be back. The lodge consists of a couple simple buildings - nothing fancy. Pretty pleasant except for the generator running in the background.

On the beach we talk to a party of 3 sea kayakers. They report coming across a large party of 12 kayakers. With such limited camping bringing such a large party seems irresponsible. I'm glad that we never ran into them.

We catch up to Marie and Wendy on a large beach further south. There's a lot of sand here, but it looks like most of it gets covered by the tide, so not much camping.

We paddle back through islands. Paul and I fill water, then we meet back at camp and cook our last dinner. Freeze-dried: there is no way to avoid it. Worse, whiskey is all gone. I read out loud to the group from On Methuselah's Trail. It is a fascinating tail of the history of life on earth, told very well. This is about the third time I've read the book and it continues to hold my attention.

I'm so absorbed that I don't notice as the tide advances over most of the beach below us. When I put the book down it is late evening and the water is 8 ft. behind me. This evenings tide is higher and later than last night. I don't think that it will flood any of the tents, but it is hard to relax till it crests. At least, it is hard for Paul to relax. Their tent is below ours. They will have to deal with the flooding first. Paul spends the late hours building a sea wall around their tent platform. I go to bed and actually do fall asleep. The water crested 1 ft. below their tent.

Overcast - some drizzle
Ferry pickup.

We wake up to clouds and light fog. Pack up camp and load the boats for the last time. We glide south down Kwakshua Channel over calm water. A large bay on the east shore holds a large fishing village - one of the sources of the pesky motor boats.

We round Whittaker Pt close to shore then hug the shore looking at the sea life. I see more crabs - large read crabs and more shield crabs on kelp. Eventually Marie and Wendy get chilled and want to paddle faster.

Heading east, the wind and current are at our backs and we make good time. We arrive at Experiment Point a couple hours before pickup. I find a small, rocky cove on the point where we can beach our kayaks (haul them gently onto the rocks). We settle into the rocks facing Fitz Hugh Sound to watch for the ferry.

I call the ferry on the radio periodically but get no response. Eventually, I hear the ferry broadcasting from Namu and am able to reach them. They are terse, but say they will be here "with in the hour." We discuss what that might mean. If it is "In the current clock hour" they should be here in a half our at most. But we settle on "In the hour starting right now," and settle in to wait for a while longer. Not wanting to be caught unprepared and scrambling, after half an hour we get in the boats and paddle out and wait in the water.

After another hour we see the ferry. It approaches and comes to a stop off the point. We're directed to the stern. They have opened the stern ramp, fitted some brackets, and are lowering a grating on to the brackets. Once in place, they lower the ramp till the grating makes a low dock. I paddle up, get out, and climb onto the ramp. Two large crew members stand on the grating and lift the kayak, first onto the grating then onto the ferry. They are not well practiced and there is some confusion lifting my kayak, but the others go smoothly.

My boat is set on a carpet. I strip off my life jacket, grab my camera, and try to get photos of the other's landing. First, I step in front of someone with a video camera and am told to get out of the way. I then try to stand on the ramp, but am told I can't be out there with out a life jacket. Since these are my partners and we are providing the entertainment I expected a little more accommodation for taking pictures. I go back and get my life jacket, but never get a good picture from up on the deck.


We gather our belongings and head for the showers. These are great - hot water with plenty of pressure. I come out clean and dressed as comfortably as I can, though a little funny looking. We gather in the lounge and drink wine, then eat lunch. The wine is great and goes right to my head. A second carafe is tempting, but I benefit from resisting. The food is OK too, but we have been eating so well that it is not a special treat.

Passengers are very curious about our trip. Many have little idea what it was like, often calling the kayaks canoes and asking if we went to shore to sleep at night. But there are also other kayakers on board and a couple corral me to pick my brain about camp sites, marking a small dot on their map every where I mention camping. In the wild areas people share the news about important resources. The natives in Alaska, after preliminary niceties would get to the heart of the matter and ask us if we had seen any caribou. Here I'd expect the natives to ask about salmon. Kayakers, however, ask about camp sites.

We are interrupted by an announcement that a whale has been spotted. All passengers move to the bow to watch. In the distance I see a whale (fin I believe) leaping half out of the water and crashing back down. I run back to my kayak to get my binoculars and watch as we move past. Further on we see several more whales of different sorts.

The islands near Vancouver island are beautiful in the evening sun light. We land in Port Hardy just before dark. Pat, from Odyssey, comes to pick us up. Back at his house we return rented gear and load our own kayaks onto our cars. Pat then, very generously, leads us to our B&B. There I find that I have a strong taste for white toast and have six slices.

Sunny
Drive to Seattle

We get up and drive back home.

The night I get back I wake up in the middle of the night wondering if the tide was going to come up over our bed. I sit up and look out over the water. The light of the moon shimmers very beautiful over the silvery water. The water is close, but we are yet safe. As I come more to consciousness, the scene shifts and I see the street light shining through the window to the wall of our bedroom and remember that I'm back home. By letting go of consciousness just a little I can shift back to the shimmering moonlight and water lapping around our bed. I have this experience the following two nights before my soul catches up to me.

[Previous] [Hakai Index] [How To]



---
[Back] [Home] [Trip Journals] [Climbing] [Kayaking] [Flight] [Photos] [Food][Feedback]
Page last modified: Jul 09 08:57 2010 by Tom Unger